Vegan Vanilla Cupcakes - Quick Bread Method

Mattie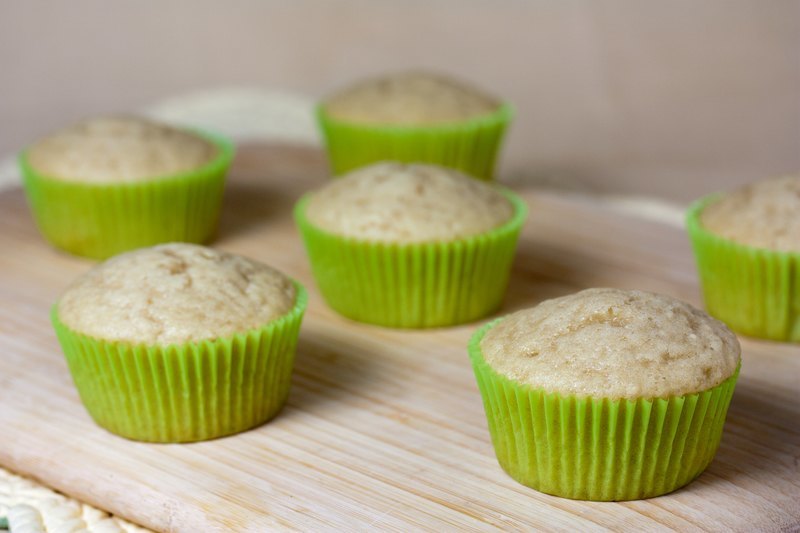 This Vegan Vanilla Cupcake recipe makes light and airy vegan cupcakes that have a soft, tender crumb due to the addition of arrowroot flour as well as apple cider vinegar. Vanilla extract and a touch of almond extract tie it all together. These cupcakes utilize the quick bread method which involves mixing your dry ingredients and wet ingredients in separate bowls, then mixing them both together at the end. This is a really easy way to make great cakes that have tender and spongy qualities. The drawback of this style is you have to be careful if you adjust the amount of sugar; more sugar will tenderize the batter, negatively affecting rise. These cupcakes are a little under sweet for my taste but if you're going for an elaborate frosting job no one will notice. If you increase the sugar in this quick bread method by even 1 Tablespoon, the cupcakes won't rise enough so it's not recommended. Use these cupcakes as a base for other flavor variations by switching out some of the flour and/or flavoring extracts. If you're looking for a cupcake that's a little bit more sweet and full flavored check out the
Vegan Vanilla Cupcakes - Cream Method
.
Find more
Birthday recipes
on Veganbaking.net
Vegan Vanilla Cupcake Recipe
¾ cup + 2 Tablespoons non-dairy milk
1 teaspoon apple cider vinegar
1 cup + 3 Tablespoons all-purpose flour, sifted
2 Tablespoons arrowroot or tapioca flour
1 teaspoon baking powder
½ teaspoon baking soda
½ cup + 3 Tablespoons sugar
1/3 cup
vegetable oil
2 teaspoons vanilla extract
¼ teaspoon almond extract
¼ teaspoon salt
1) Prepare the egg replacer mixture
Preheat your oven to 375F (191C). In a small mixing bowl whisk together the non-dairy milk and apple cider vinegar until smooth. Allow the mixture to sit for about 10 minutes so the mixture thickens slightly.
2) Whisk together the dry ingredients
In a medium mixing bowl, whisk together the sifted all-purpose flour, arrowroot or tapioca flour, baking powder and baking soda. Set aside. Note: It's important to sift the flour so clumps are eliminated and some air is incorporated into it, enabling maximum rise.
3) Whisk together the flavor building ingredients
In another medium mixing bowl whisk together the sugar, vegetable oil, vanilla extract, almond extract and salt. Whisk in the non-dairy milk apple cider vinegar mixture from step 1 until well incorporated.
4) Whisk the batter together
Now add the wet ingredients to the dry ingredients and briefly whisk together until just incorporated and the lumps are eliminated.
5) Bake the vegan cupcakes to perfection
Pour the batter into a cupcake mold lined with cupcake liners so the mixture is ½ the way up to the top of the cupcake liner. Bake for 17 minutes or until an inserted toothpick comes out clean.
This recipe makes 12 Vegan Vanilla Cupcakes.
User reviews
(Updated: November 25, 2020)
Great foundation recipe
Sweets was always been my no.1 favorite. So as I stumbled upon here, what else can I say? Great recipe! Thank you for the detailed instructions and for sharing your ideas this is very useful for a sweet lover esp. cupcakes like me. I already added it to my go-to recipe to make cupcakes.
Was this review helpful to you?
vajiya3892
#1 Reviewer
View all my reviews (57)
Cupcakes are not my favorite but this looks good
Was this review helpful to you?
Thambili
Perfect
These were perfect!
They are a little too spongy straight out of the oven, but after they cool down they are perfect!
I've been looking for a "go to" cupcake recipe for a while now and this is going to be it!
thanks!
Was this review helpful to you?
Vidya
Healthy Flour
Hi Mattie,

I would like to substitute Whole wheat flour instead of all-purpose flour. What will be the exact substitution? Can i use cup by cup measurement? My whole wheat cakes have always ended denser :(( Pls suggest for a fluffy light cake.

Thanks for ur time,

Vidya
Was this review helpful to you?
Erin
question
Hi, I am trying to nail down a solid vanilla cupcake recipe an am anxious to try this one but wanted to know how you measured/scooped your flour in the measure cup? Did you simply dip it or did you first fluff/scoop/level or spoon/level into the cup? I usually weigh my flour for more consistency so am just trying to get this recipe right so mine can be light and fluffy too. Thanks in advance!
Was this review helpful to you?
tangelo
View all my reviews (1)
Very Good
I used this recipe to make strawberry cupcakes; I added in a couple of tablespoons worth of ground freeze dried strawberries, plus more to the frosting. It turned out excellent, so good I'd say it didn't even need the frosting! (I might add in more strawberries next time, though.)
Was this review helpful to you?
winonawang
Easy-backing recipe
Love the recipes that you wrote for us. Super easy to follow, and the taste of the cakes is super good. Thanks so much for your sharing.
Was this review helpful to you?
Amanda
This is a brilliant recipe. My cupcakes turned out so much lighter and fluffier than they normally do. This is my new favourite recipe! Thanks so much!
Was this review helpful to you?
razzldazzl23
Top 50 Reviewer
View all my reviews (3)
Yummo!
I honestly make these cupcakes at least once every 2 weeks because I love love love how moist & flavorful they are! It's real easy to make & if I need something to bring to a party these are it! I tried different frostings for this but just eating it without a frosting is delicious!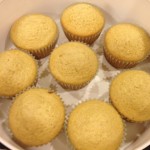 Was this review helpful to you?
rachel
a few more notes
I forgot to mention (see previous review) that I doubled this recipe and got 12 cupcakes + one 7-inch cake. If you want a bigger cake, i'd just do 2.5 recipes or so. For the cupcakes I filled the liners 2/3 full, not half, and in my oven they were perfect at 19 minutes. The cake took 11 extra minutes. I removed the cupcakes and left the cake in and everything turned out fine. Another excellent variation is to add 1/3 cup unsweetened dark cocoa powder (plus the white or regular chocolate chips). Absolutely delicious.
Was this review helpful to you?
rachel
fantastic best vegan cupcakes ever!
I made these cupcakes (and used the same recipe to make a layer cake) for my daughter's bday party and got RAVE REVIEWS from people who had no idea they were vegan!!! If for any reason you are not 100% satisfied with the recipe posted, try my version and I think you'll see why I got rave reviews: for non-dairy milk I used 1/2 c. coconut milk and 1/4 cup+2T of rice milk. Since coconut milk is pretty fatty, I cut down the oil in the recipe by just a tad: I used 2T of olive oil and 2T of sunflower seed oil (didn't have any canola oil) (for a total of 1/4 cup oil). I used just 1 1/2 t of vanilla as the 2 t version seemed too strong for me. I also used 1/8 t rum extract in place of almond extract (didn't have any). I do not agree at all that these are not sweet enough. They are absolutely perfect and as a matter of fact, when using coconut and rice milk the sweetness increases, therefore I even cut out one of the T of sugar. I added white chocolate chips in the end, and decorated with lightly sweetened stabilized whipped cream. DELICIOUS. Nobody believed me that these did not contain butter or eggs. As a matter of fact, I tried a regular cupcake recipe and didn't like it nearly as well as this one, so I went with this one. Fantastic. ENJOY!!! And thank you Mattie!
Was this review helpful to you?
Kim
Can think be used for a sheet cake that is 9x13?
I am a non-vegan trying (the key word is trying!) to make a wedding cake for my vegan cousin but after trying 10+ different vanilla vegan cake recipes they all have turned out too dense and definitely not spongey like she wants. Please please any help you can provide would be appreciated. I have 2 months left to figure out how to make her dream cake.
Was this review helpful to you?
Jenny
Beautiful light sponge!
I've been searching for a light & fluffy vanilla cupcake recipe and this worked perfectly! I used a fancy, lighter sponge flour which may have helped, but in either case, a triumph. Thanks!
Was this review helpful to you?